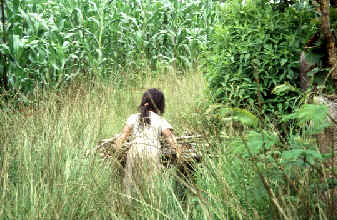 By far the most important product to any professional in really any field is the people he/she was able to mentor. In university settings, that product is graduate students receiving MS and PHD degrees. But, no graduate is really a viable product unless he or she ends up gainfully employed and in agricultural research. Of the almost 90 students that have finished degrees with me, many are now professors at key universities in the US, and/or hold leadership positions in Industry, the CGIAR system, and private enterprise. It has been a great privilege to have these associations over the years.
Of the 6 years I spent working in Central America, witnessing a 5-year-old girl pushing a small cart filled with firewood back to her house for cooking near La Esperanza, Honduras has always been one of the more indelible moments of my life. This field where we were conducting on-farm research with CIMMYT was no different than all the rest, nor was this little girl any different than any other I would encounter in corn fields of Central America. What was unique about this moment was that it was captured on film, in my mind, and what has always seemed like a passing spirit, yesterday, in 1987.
What this girl knows about hard work is worth talking about, considering what has been required of her at such an early age.
When people in the third world have problems, we can help simply by caring. If we care, and many others like us care, something will ultimately be done. If we don't care, their problems will never be discussed, and their needs will never be met. If we simply recognize their need, it will ultimately make us better ambassadors and teachers.
This girl will never talk about how hard she works or how hard she had to work as a child, the picture tells the story. We will never know how many people she helped as helping others was a way of life.
If someone has to tell you that they are working hard, and that they are doing this and that for other people, it is highly likley that neither is true.
Graduated Students (1992-2016)
Where are they Now?
Country/State
1
Ascencio, Edgar Noel. 1992. M.S.
CARE, San Salvador, El Salvador
El Salvador
2
Attefat, Mehdi. 1992. M.S.
Iraq,
Iraq
3
Sembiring, Hasil. 1993. M.S.
Indonesia, National Program
Indonesia
4
Jojola, Michael E. 1994. M.S.
New Mexico
5
Morales, Sonia. 1994.

M.S.
El Salvador
6
Kanampiu, Fred Kaburu. 1995. Ph.D.
CIMMYT, Kenya
Kenya
7
Ascencio, Edgar Noel. 1995. Ph.D.
CARE, San Salvador, El Salvador
El Salvador
8
Gavi-Reyes, Francisco. 1995. Ph.D.
Univ. Post Graduados, Chapingo
Mexico
9
Ball, Jeff B. 1995. M.S.
Bayer Crop Science
Oklahoma
10
Phillips, Steven B. 1995. M.S.
Staff, IPNI
Oklahoma
11
Taylor, S.L. 1996. M.S.
USDA-ARS
Oklahoma
12
Chen, J. 1997, M.S.
Ford Motor Co.
China
13
Keahey, D.A., 1997, M.S.
Private Enterprise
Oklahoma
14
Lees, H.L., 1997, M.S.
Ohio
15
Sembiring, H. 1997, Ph.D.
Indonesia, National Program
Indonesia
16
Thomason, W.E. 1998, M.S.
Faculty, Virginia Tech
Oklahoma
17
Lukina, E.V. 1998, M.S.
Lab Assistant
Uzbekistan
18
LaRuffa, Joanne M. 1999, M.S.

Virginia
19
Phillips, S.B. 1999, Ph.D.

Staff, IPNI
Oklahoma
20
DeLeon, Micah, 1999, M.S.
Graduate Student
Argentina
21
Dennis, Jeremy, 1999, M.S.

NRCS
Oklahoma
22
Woolfolk, Curt, 1999, M.S.
Mosaic, MN
Oklahoma
23
Cossey, Doug, 1999, M.S.
Servi-Tech, Dodge City, KS
Oklahoma
24
Mullen, R.W. 2001, M.S.
Head, Agronomy, Potash Corp.
Oklahoma
25
Wynn, K. 2001, M.S.
SCS
Oklahoma
26
Thomason, W.E. 2001, Ph.D.
Faculty, Virginia Tech
Oklahoma
27
Lukina.E.V. 2001, Ph.D.
Lab Assistant
Uzbekistan
28
Freeman, Kyle W. 2001, M.S.
VP, Mosaic, MN
Oklahoma
29
Teal, Roger, 2002, M.S.
Laverne, OK
Tennessee
30
Moges, Shambel, 2002, M.S.
Accurate Environmental Labs
Ethiopia
31
Mullen, Robert, 2002, Ph.D.
Potash Corp.

Oklahoma
32
Micah Humphreys, 2003, M.S.

Faculty, Northwest College, Wyoming
Oklahoma
33
Paul Hodgen, 2003, M.S.

Monsanto, Illinois
Indiana
34
Jason Lawles, 2004, M.S.

Monsanto, OK
Oklahoma
35
Jagadeesh Mosali, 2004, Ph.D.

Noble Foundation, Ardmore, OK
India

36
Keri, Brixey, 2004, M.S.

NRCS Kansas
Oklahoma
37
Brian Arnall, 2004, M.S.
Faculty, Oklahoma State University
Oklahoma
38
Kefyalew Desta, 2004, Ph.D.

Faculty, Washington State
Ethiopia
39
Roger Teal, 2005, Ph.D.
Laverne, OK
Tennessee
40
Kent Martin, 2005, M.S.
Private/Kansas State University
Oklahoma
41
Kyle Freeman, 2005, Ph.D.
Mosaic, MN
Oklahoma
42
Shambel Moges, 2005, Ph.D
Accurate Labs
Ethiopia
43
Clint Mack, 2006, M.S.
Farmer/Consultant, OK
Oklahoma
44
Kyle Lawles, 2006, M.S.
Monsanto, Iowa
Oklahoma
45
Olga Walsh, 2006, M.S.
Faculty, Univ. of Idaho
Russia, Lenningrad
46
Brenda Tubana, 2007, Ph.D.
Faculty, Louisiana State University
Phlippines
47
Byungkyun, Chung, 2007, Ph.D.
Faculty, McNeese State University
S. Korea
48
Clint Dotson, 2007, M.S.
Monsanto, Kansas
Oklahoma
49
Starr Holtz, 2007, M.S.
Monsanto, Nebraska

Oklahoma
50
Brian Arnall, 2008, Ph.D.
Faculty, Oklahoma State University
Oklahoma
51
Pam Turner, 2008, M.S.
Dept. Environmental Quality
Oklahoma
52
Brandon England, 2008, M.S.
OSDA
Oklahoma
53
Cody Daft, 2008, M.S.
Pioneer, Nebraska
Oklahoma
54
Daniel Edmonds, 2008, M.S.
Private
Oklahoma
55
Birehane Desta, 2009, M.S.
Univ. Minnesota
Ethiopia
56
Olga Walsh, 2009, Ph.D.
Faculty, Univ. of Idaho
Russia, Lenningrad
57
Yumiko Kanke, 2009, M.S.
Louisiana State University
Japan
58
Jake Vossenkemper, 2009, M.S.
Pioneer, Missouri
Missouri
59
Guilherme Torres, 2010, M.S.
Monsanto, Brazil
Brazil
60
Jonathan Kelly, 2011, M.S.

Private, Kansas
Oklahoma
61
Kevin Waldschmidt, 2011, M.S.
Private Enterprise
Kansas
62
Emily Rutto, PhD, 2011
Post Doc
Kenya
63
Natasha Macnack, M.S., Ph.D 2014
Asst. Professor, Wisconsin
Suriname
64
Yesuf Mohammed, PhD., 2012
Post Doc
Montana
65
Jeremiah Mullock, M.S., 2012
Bayer Crop Science
North Carolina
66
Bee Chim, M.S., 2012
PhD, Virginia Tech
Malaysia
67
Jared Crain, M.S. 2012
PhD, Kansas State
Oklahoma
68
Sulochana Dhital, M.S., 2014
PhD Student
Nepal
69
Jake Bushong, PhD., 2014
Private Enterprise
Oklahoma
70
Ethan Wyatt, M.S., 2013
Monsanto
Oklahoma
71
Eric Miller, PhD., 2014
Pioneer, Indiana
Indiana
72
Peter Omara, M.S., 2013
Uganda
Uganda
73
Candi Candibyani,
Lab Assistant
Malaysia
74
Lawrence Aula, M.S., 2014
Uganda
Uganda
75
Jeremiah Mullock, MS, PhD, 2015
Bayer Crop Science
North Carolina
76
Jagmandeep Dhillon
MS, 2016
India
77
Bruno Figueiredo
MS, 2016
Brazil
78
Ethan Driver
MS, 2016
California
79
Sulochana Dhital, PhD, 2016
PhD, 2016
Nepal
80
Mariana Ramos del Corso
MS, 2016
Brazil
81
Ryan Schlobohm
MS, 2016
Oklahoma
82
Daniel Aliddeki
MS, 2016
Uganda
83
Melissa Golden
MS, 2016 Climate Corp/Monsanto
St. Louis
84
Nicole Remondet
MS, 2016
Oklahoma
85
Gwen Wehmeyer
MS, 2017
Missouri
86
Fikayo Oyebiyi
MS, 2017
USA
87
Eva Nambi
MS, 2017
Uganda
88
Alimamy Fornah
PhD, 2018
Sierra Leone
89
Elizabeth Eickhoff
MS, 2018
Nebraska
90
Robert Lemings
MS, 2018
Oklahoma
91
Bruno Figueiredo, M.S., 2016
PhD Student
Brazil
92
Gwen Wehmeyer, M.S., 2016
PhD Student
Missouri
93
Jagmandeep Dhillon, MS, 2016
PhD Student
India
94
Fikayo Oyebiyi, MS, 2017
PhD Student
Nigeria
95
Peter Omara, MS, 2014
PhD Student
Uganda
96
Eva Nambi, M.S. 2017
PhD Student
Uganda
97
Tyler Lynch
MS Student
Oklahoma
98
Lawrence Aula, PhD. 2020
PhD Student
Uganda
99
Dillon Davidson
MS Student
USA
100
Elizabeth Eickhoff
PhD Student
Nebraska