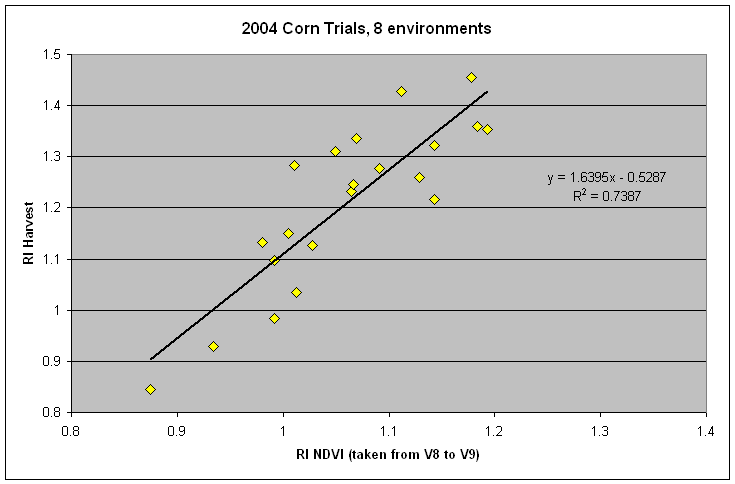 Relationship between the estimated responsiveness to applied N or response index (RI-NDVI) from sensor readings (RI-NDVI = NDVI in the N Rich strip divided by the NDVI in the farmer practice) and the response index determined at harvest (Grain yield in the N rich strip plot divided by the N Rich strip in the farmer practice), 2004 Corn Trials. The responsiveness to N can be determined from mid-season sensor measurements collected between V8 and V9.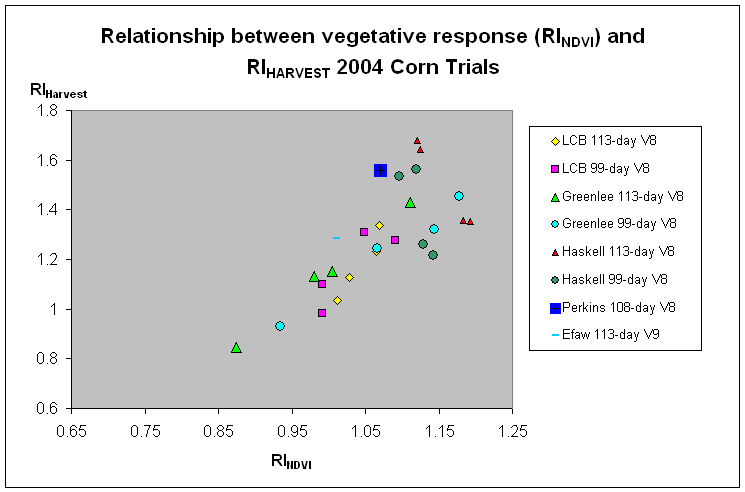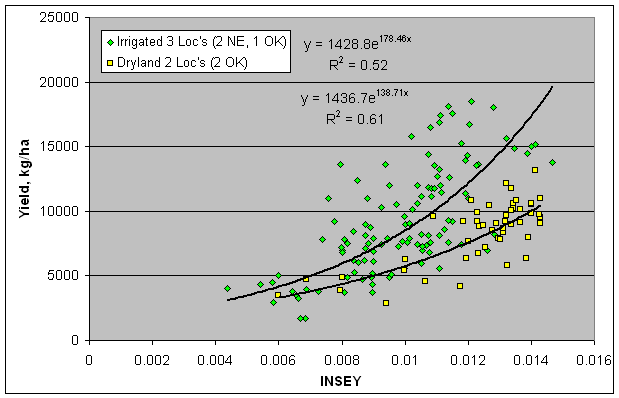 Relationship between INSEY (NDVI divided by the # of days from planting to sensing) collected at V8, and final corn grain yield.
Corn grain yields in the check (0 kg N/ha) and the N adequate or N rich (180 kg N/ha) plots, and the associated response index (grain yield N rich, divided by the grain yield in the check) from 1969 to 1983 in the RC-RS long-term corn experiment conducted by Professor R.A. Olson near Mead, Nebraska.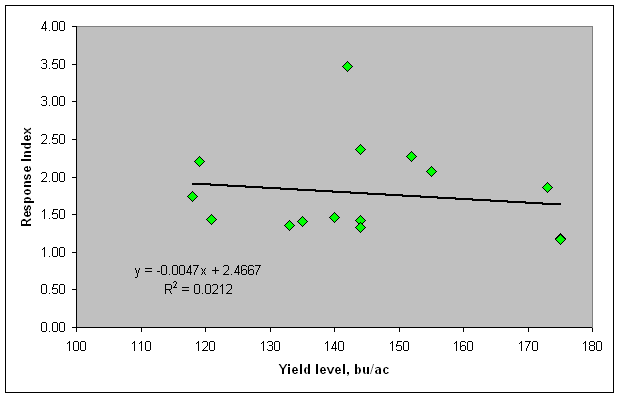 Yield level (180 lb N/ac) versus the response index (yield at 180 kg N/ha divided by yield at 0 kg N/ha), Mead, NE 1969-83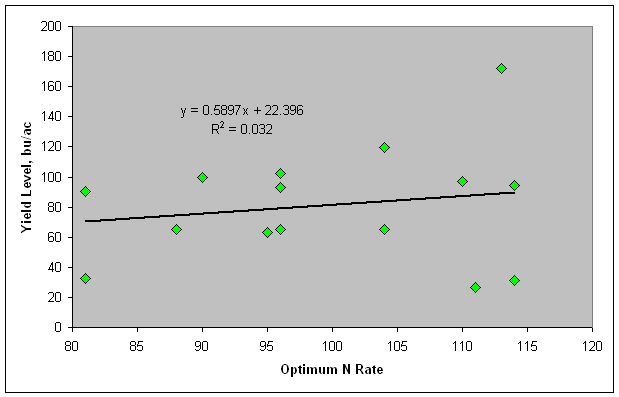 Optimum N rate (N uptake max yield minus N uptake check, divided by .5) versus yield level, 180 kg N/ha, Mead, NE, 1969-83.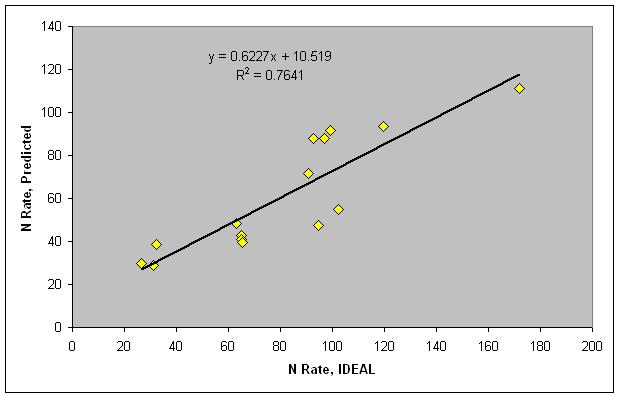 N Rate, lb/ac
State
N Rate, lb/ac
60% NUE
Year
0
90
180
270
LSD
NE Avg.
RI
0
90
180
270
Added GN
N Rate
Added N
Grain yield, bu/ac
Grain N uptake, lb/ac
Uptake
Computed
Predicted
Difference
1969
148
167
175
164
6.3
94
1.18
98
104
111
105
13
22
30
8
1970
98
127
133
140
4.3
76
1.36
65
72
81
88
16
27
39
11
1971
101
154
144
163
3.3
85
1.43
67
118
114
132
47
79
47
31
1972
67
142
152
159
9.9
104
2.27
44
89
104
113
60
100
94
6
1973
96
131
140
137
4.6
94
1.46
63
87
95
99
32
53
48
4
1974
68
108
118
118
10.3
70
1.74
45
88
96
96
51
85
55
30
1975
41
131
142
138
7.6
85
3.46
27
99
113
113
86
143
111
32
1976
96
139
135
145
6.1
85
1.41
63
98
96
112
33
54
43
11
1977
84
107
121
117
11.1
99
1.44
56
76
88
87
32
54
41
13
1978
149
181
175
181
4.2
113
1.17
98
119
114
118
16
26
29
3
1979
93
170
173
171
1.7
115
1.86
61
104
110
113
49
81
88
7
1980
61
139
144
143
6.3
85
2.36
40
82
90
86
50
83
91
9
1981
108
137
144
149
3.5
115
1.33
71
97
104
111
33
54
40
15
1982
75
145
155
165
4
110
2.07
50
88
96
102
46
77
88
11
1983
54
118
119
126
4.7
97
2.20
36
77
81
86
45
76
72
4
mean
89.3
139.7
144.7
147.7
5.9
95.1
1.620612
Mean
41
68
61
13
CV
0.34
0.15
0.13
0.13
0.47
0.15