The yield potential prediction equation listed above included winter wheat planted from September 24 to December 1, and sensed between February 5, and April 2. This includes a range of 55 to 127 days where GDD>0. Accurate mid-season N rates can be determined between Feekes 4 and Feekes 6.

According to Large (1954) cereals develop as follow Feekes Growth Stages
Stage
T I L L E R I N G
1 One shoot (number of leaves can be added) = "brairding"
2 Beginning of tillering
3 Tillers formed, leaves often twisted spirally. In some varieties of winter wheats,
plants may be "creeping" or prostrate
4 Beginning of the erection of the pseudo-stem, leaf sheaths beginning to lengthen
5 Pseudo-stem (formed by sheaths of leaves) strongly erected
S T E M E X T E N S I O N
6 First node of stem visible at base of shoot
7 Second node of stem formed, next-to-last leaf just visible
8 Last leaf visible, but still rolled up, ear beginning to swell
9 Ligule of last leaf just visible
10 Sheath of last leaf completely grown out, ear swollen but not yet visible
H E A D I N G
10.1 First ears just visible (awns just showing in barley, ear escaping through split of sheath
in wheat or oats)
10.2 Quarter of heading process completed
10.3 Half of heading process completed
10.4 Three-quarters of heading process completed
10.5 All ears out of sheath
F L O W E R I N G (WHEAT)
10.5.1 Beginning of flowering (wheat)
10.5.2 Flowering complete to top of ear
10.5.3 Flowering over at base of ear
10.5.4 Flowering over, kernel watery ripe
R I P E N I N G
11.1 Milky ripe
11.2 Mealy ripe, contents of kernel soft but dry
11.3 Kernel hard (difficult to divide by thumb-nail)
11.4 Ripe for cutting. Straw dead
Reference
Large, E.C. 1954. Growth stages in cereals. Plant Pathol. 3:128-129.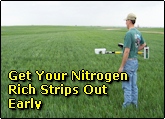 The earlier the better for mid-season determination of topdress N rates
Article Delineating the Actual Algorithm EMPLOYED in the SBNRC
Outline for Generating New Crop Algorithms for N Fertilization