| | | | | | | | | | | | | |
| --- | --- | --- | --- | --- | --- | --- | --- | --- | --- | --- | --- | --- |
| 9/5/17 | | | | | | | | | | | | |
| First | Last | | Start Date | Degree | Proposal | Plan of Study | 1st Committee | Days to 1st Me. | Days in queue | Oral Exam | Defense | Days to Degree |
| Starr | Holtz | USA | 1/3/2006 | M.S. | x | x | 7/3/2006 | 180 | 687 | na | 11/30/2007 | 687 |
| Clint | Dotson | USA | 6/1/2006 | M.S. | x | x | 10/3/2006 | 122 | 539 | na | 11/30/2007 | 539 |
| Brian | Arnall | USA | 1/3/2005 | Ph.D | x | x | 3/4/2007 | 781 | 1186 | 7/1/2007 | 19-Apr-08 | 1186 |
| Pam | Turner | USA | 6/1/2006 | M.S. | x | x | 7/20/2007 | 409 | 669 | | 10-Apr-08 | 669 |
| Cody | Daft | USA | 1/3/2007 | M.S. | x | x | 11/15/2007 | 312 | 609 | | 12-Sep-08 | 609 |
| Brandon | England | USA | 1/3/2007 | M.S. | x | x | 11/15/2007 | 312 | 609 | | 12-Sep-08 | 609 |
| Olga | Walsh | Russia | 1/3/2007 | Ph.D | x | x | 2/27/2008 | 414 | 905 | 7-Jan-09 | 8-Jul-09 | 905 |
| Birehane | Desta | Ethiopia | 8/1/2007 | M.S. | x | x | 20-May-08 | 289 | 702 | 1/15/2009 | 13-Jul-09 | 702 |
| Yumiko | Kanke | Japan | 5/5/2008 | M.S. | x | x | 31-Mar-09 | 325 | 546 | | 11-Nov-09 | 546 |
| Jacob | Vossenkemper | USA | 1-Jun-08 | M.S. | x | x | 23-Jul-09 | 412 | 560 | | 21-Dec-09 | 560 |
| Guilherme | Torres | Brazil | 8/18/2008 | M.S. | x | x | 13-Mar-10 | 565 | 802 | | 11/10/2010 | 802 |
| Jonathan | Kelly | USA | 5/1/2009 | M.S. | x | x | 18-Oct-10 | 527 | 693 | | 4-Apr-11 | 693 |
| Waldschmidt | Kevin | USA | 04-01-10 | M.S. | x | x | 9-Apr-11 | 455 | 551 | | 15-Jul-11 | 551 |
| Emily | Rutto | Kenya | 1-Jun-08 | Ph.D | x | x | 2/3/2010 | 602 | 1258 | 2/3/2011 | 29-Nov-11 | 1258 |
| Yesuf | Mohammed | Ethiopia | 1/1/2009 | Ph.D. | x | x | 40240 | 422 | 1167 | | 3/28/2012 | 1167 |
| Natasha | Macnack | Suriname | 7/20/2010 | M.S. | x | x | 40632 | 250 | 595 | | 15-Mar-12 | 595 |
| Jared | Crain | USA | 5/1/2010 | M.S. | x | x | 40828 | 521 | 689 | | 3/30/2012 | 689 |
| Bee | Chim | Malaysia | 1/4/2010 | M.S. | x | x | 8/5/2011 | 571 | 823 | | 4/17/2012 | 823 |
| Mullock | Jeremiah | USA | 1/4/2010 | M.S. | x | x | 26-Oct-11 | 652 | 860 | | 5/24/2012 | 860 |
| Guilherme | Torres | Brazil | 1-Aug-10 | Ph.D | x | x | 2/14/2012 | 553 | 849 | 5/24/2012 | 10-Dec-12 | 849 |
| Sulochana | Dhital | Nepal | 6/1/2011 | M.S. | x | x | 3/13/2012 | 282 | 760 | | 11-Jul-13 | 760 |
| Ethan | Wyatt | USA | 5/15/2012 | M.S. | x | x | 27-Sep-12 | 132 | 451 | | 16-Aug-13 | 451 |
| Peter | Omara | Uganda | 6/1/2012 | M.S. | x | x | 11-Feb-13 | 250 | 507 | | 28-Oct-13 | 507 |
| Jacob | Bushong | USA | 11/30/2011 | Ph.D. | x | x | 10/15/2012 | 315 | 2075 | 24-May-13 | 14-Apr-14 | 854 |
| Jeremiah | Mullock | USA | 5/24/2012 | PhD | x | x | 6/9/2014 | 735 | 1901 | | 10-Nov-14 | 886 |
| Natasha | Macnack | Suriname | 2/15/2012 | Ph.D. | x | x | 2/13/2013 | 358 | 2000 | 21-Feb-14 | 30-Oct-14 | 975 |
| Eric | Miller | USA | 6/1/2012 | Ph.D. | x | x | 2/25/2014 | 624 | 1894 | 9-Apr-14 | 27-Oct-14 | 866 |
| Lawrence | Aula | Uganda | 26-Jul-13 | M.S. | x | x | 11/20/2013 | 114 | 1479 | 12-Nov-14 | 11/12/2014 | 466 |
| Jagmandeep | Dhillon | India | 1-Jun-14 | M.S. | x | x | 12/17/2014 | 196 | 1174 | | 21-Mar-16 | 650 |
| Ethan | Driver | USA | 42125 | M.S. | x | x | 42391 | 261 | 844 | | 6-Jul-16 | 425 |
| Bruno | Figueiredo | Brazil | 21-May-13 | M.S. | | x | | 365 | 1544 | | 9/15/2016 | 1194 |
| Ryan | Schlobohm | USA | 10-Jun-15 | M.S. | x | x | 1/4/2016 | 204 | 805 | | 10/18/2016 | 488 |
| Daniel | Aliddeki | Uganda | 26-Jan-15 | M.S. | | x | 4/1/2016 | 425 | 939 | | 11/16/2016 | 650 |
| Melissa | Golden | USA | 10-May-15 | M.S. | x | x | 3/4/2016 | 294 | 835 | | 11/17/2016 | 547 |
| Nicole | Remondet | USA | 7-Jan-15 | M.S. | x | x | 3/4/2016 | 417 | 958 | | 11/17/2016 | 670 |
| Mariana | Ramos Del Corso | Brazil | 1-Aug-14 | M.S. | x | x | 2/1/2016 | 540 | 1114 | | 11/18/2016 | 827 |
| Sulochana | Dhital | Nepal | 7/1/2013 | Ph.D. | x | x | | | 1504 | 28-Jul-16 | 22-Nov-16 | 1221 |
| Gwen | Wehmeyer | USA | 1-Jan-16 | M.S. | | x | 17-Aug-16 | 226 | 604 | | 21-Apr-17 | 470 |
| | | | | | | | | | | | | |
| | | | | | | | MS Avg. | 305 | 819 | | | |
| | | | | | | | Min | 114 | 451 | | | |
| | | | | | | | | | | | | |
| First | Last | Country | Start Date | Degree | Plan/Study | 1st Committee | Days, 1st Me. | Days | Oral Exam | Defense | Days to Degree | |
| Bruno | Figueiredo | Brazil | 1-Aug-16 | Ph.D. | | | | 394 | | | | |
| Jagmandeep | Dhillon | India | 1-Jun-16 | Ph.D. | x | 7/25/2017 | 414 | 454 | | | | |
| Eva | Nambi | Uganda | 1-Jan-16 | M.S. | x | 26-Jan-17 | 385 | 604 | | | | |
| Gwen | Wehmeyer | USA | 1-May-17 | Ph.D. | | | | 124 | | | | |
| Fikayo | Oyebiyi | Nigeria | 15-May-16 | M.S. | x | 1-May-17 | 346 | 470 | | | | |
| Alimamy | Fornah | Sierra Leone | 20-Dec-16 | Ph.D. | x | 31-Aug-17 | | 255 | | | | |
| Robert | Lemings | USA | 2-Jan-17 | M.S. | x | | | 243 | | | | |
| Elizabeth | Eickhoff | USA | 20-May-17 | M.S. | | 29-Aug-17 | | -86 | | | | |
| Peter | Omara | Uganda | 14-Aug-17 | Ph.D. | x | | | 105 | | | | |
| Tyler | Lynch | USA | 1-Dec-17 | M.S. | | | | 21 | | | | |
Graduated Students (1992-2016)
Where are they Now?
Country/State
1
Ascencio, Edgar Noel. 1992. M.S.
CARE, San Salvador, El Salvador
El Salvador
2
Attefat, Mehdi. 1992. M.S.
Iraq,
Iraq
3
Sembiring, Hasil. 1993. M.S.
Indonesia, National Program
Indonesia
4
Jojola, Michael E. 1994. M.S.
New Mexico
5
Morales, Sonia. 1994.

M.S.
El Salvador
6
Kanampiu, Fred Kaburu. 1995. Ph.D.
CIMMYT, Kenya
Kenya
7
Ascencio, Edgar Noel. 1995. Ph.D.
CARE, San Salvador, El Salvador
El Salvador
8
Gavi-Reyes, Francisco. 1995. Ph.D.
Univ. Post Graduados, Chapingo
Mexico
9
Ball, Jeff B. 1995. M.S.
Bayer Crop Science
Oklahoma
10
Phillips, Steven B. 1995. M.S.
Staff, IPNI
Oklahoma
11
Taylor, S.L. 1996. M.S.
USDA-ARS
Oklahoma
12
Chen, J. 1997, M.S.
Ford Motor Co.
China
13
Keahey, D.A., 1997, M.S.
Private Enterprise
Oklahoma
14
Lees, H.L., 1997, M.S.
Ohio
15
Sembiring, H. 1997, Ph.D.
Indonesia, National Program
Indonesia
16
Thomason, W.E. 1998, M.S.
Faculty, Virginia Tech
Oklahoma
17
Lukina, E.V. 1998, M.S.
Lab Assistant
Uzbekistan
18
LaRuffa, Joanne M. 1999, M.S.

Virginia
19
Phillips, S.B. 1999, Ph.D.

Staff, IPNI
Oklahoma
20
DeLeon, Micah, 1999, M.S.
Graduate Student
Argentina
21
Dennis, Jeremy, 1999, M.S.

NRCS
Oklahoma
22
Woolfolk, Curt, 1999, M.S.
Mosaic, MN
Oklahoma
23
Cossey, Doug, 1999, M.S.
Servi-Tech, Dodge City, KS
Oklahoma
24
Mullen, R.W. 2001, M.S.
Head, Agronomy, Potash Corp.
Oklahoma
25
Wynn, K. 2001, M.S.
SCS
Oklahoma
26
Thomason, W.E. 2001, Ph.D.
Faculty, Virginia Tech
Oklahoma
27
Lukina.E.V. 2001, Ph.D.
Lab Assistant
Uzbekistan
28
Freeman, Kyle W. 2001, M.S.
VP, Mosaic, MN
Oklahoma
29
Teal, Roger, 2002, M.S.
Laverne, OK
Tennessee
30
Moges, Shambel, 2002, M.S.
Accurate Environmental Labs
Ethiopia
31
Mullen, Robert, 2002, Ph.D.
Potash Corp.

Oklahoma
32
Micah Humphreys, 2003, M.S.

Faculty, Northwest College, Wyoming
Oklahoma
33
Paul Hodgen, 2003, M.S.

Monsanto, Illinois
Indiana
34
Jason Lawles, 2004, M.S.

Monsanto, OK
Oklahoma
35
Jagadeesh Mosali, 2004, Ph.D.

Noble Foundation, Ardmore, OK

India

36
Keri, Brixey, 2004, M.S.

NRCS Kansas
Oklahoma
37
Brian Arnall, 2004, M.S.
Faculty, Oklahoma State University
Oklahoma
38
Kefyalew Desta, 2004, Ph.D.

Faculty, Washington State
Ethiopia
39
Roger Teal, 2005, Ph.D.
Laverne, OK
Tennessee
40
Kent Martin, 2005, M.S.
Private/Kansas State University
Oklahoma
41
Kyle Freeman, 2005, Ph.D.
Mosaic, MN
Oklahoma
42
Shambel Moges, 2005, Ph.D
Accurate Labs
Ethiopia
43
Clint Mack, 2006, M.S.
Farmer/Consultant, OK
Oklahoma
44
Kyle Lawles, 2006, M.S.
Monsanto, Iowa
Oklahoma
45
Olga Walsh, 2006, M.S.
Faculty, Univ. of Idaho
Russia, Lenningrad
46
Brenda Tubana, 2007, Ph.D.
Faculty, Louisiana State University
Phlippines
47
Byungkyun, Chung, 2007, Ph.D.
Faculty, McNeese State University
S. Korea
48
Clint Dotson, 2007, M.S.
Monsanto, Kansas
Oklahoma
49
Starr Holtz, 2007, M.S.
Monsanto, Nebraska

Oklahoma
50
Brian Arnall, 2008, Ph.D.
Faculty, Oklahoma State University
Oklahoma
51
Pam Turner, 2008, M.S.
Dept. Environmental Quality
Oklahoma
52
Brandon England, 2008, M.S.
OSDA
Oklahoma
53
Cody Daft, 2008, M.S.
Pioneer, Nebraska
Oklahoma
54
Daniel Edmonds, 2008, M.S.
Private
Oklahoma
55
Birehane Desta, 2009, M.S.
Univ. Minnesota
Ethiopia
56
Olga Walsh, 2009, Ph.D.
Faculty, Univ. of Idaho
Russia, Lenningrad
57
Yumiko Kanke, 2009, M.S.
Louisiana State University
Japan
58
Jake Vossenkemper, 2009, M.S.
Pioneer, Missouri
Missouri
59
Guilherme Torres, 2010, M.S.
Monsanto, Brazil
Brazil
60
Jonathan Kelly, 2011, M.S.

Private, Kansas
Oklahoma
61
Kevin Waldschmidt, 2011, M.S.
Private Enterprise
Kansas
62
Emily Rutto, PhD, 2011
Post Doc
Kenya
63
Natasha Macnack, M.S., Ph.D 2014
Asst. Professor, Wisconsin
Suriname
64
Yesuf Mohammed, PhD., 2012
Post Doc
Montana
65
Jeremiah Mullock, M.S., 2012
Bayer Crop Science
North Carolina
66
Bee Chim, M.S., 2012
PhD, Virginia Tech
Malaysia
67
Jared Crain, M.S. 2012
PhD, Kansas State
Oklahoma
68
Sulochana Dhital, M.S., 2014
PhD Student
Nepal
69
Jake Bushong, PhD., 2014
Private Enterprise
Oklahoma
70
Ethan Wyatt, M.S., 2013
Monsanto
Oklahoma
71
Eric Miller, PhD., 2014
Pioneer, Indiana
Indiana
72
Peter Omara, M.S., 2013
Uganda
Uganda
73
Candi Candibyani,
Lab Assistant
Malaysia
74
Lawrence Aula, M.S., 2014
Uganda
Uganda
75
Jeremiah Mullock, PhD, 2015
Bayer Crop Science
North Carolina
76
Jagmandeep Dhillon, MS, 2016
PhD Student
India
77
Bruno Figueiredo, M.S., 2016
PhD Student
Brazil
78
Ethan Driver, M.S., 2016
MS Student
California
79
Sulochana Dhital, PhD, 2016
Post Doc
Nepal
80
Mariana Ramos del Corso
PhD Student, Auburn
Brazil
81
Ryan Schlobohm
MS Student
Oklahoma
82
Daniel Aliddeki
MS Student
Uganda
83
Melissa Golden
Climate Corp/Monsanto
St. Louis
84
Nicole Remondet
Graduate
Oklahoma
85
Gwen Wehmeyer
PhD Student
Missouri
86
Eva Nambi
MS Student
Uganda
87
Fikayo Oyebiyi
MS Student
Nigeria
88
Alimamy Fornah
PHD Student
Sierra Leone
89
Robert Lemings
MS Student
Oklahoma
90
Tyler Lynch
MS Student
Oklahoma
91
Elizabeth Eickhoff
MS Student
Missouri
92
Peter Omara
PhD Student
Uganda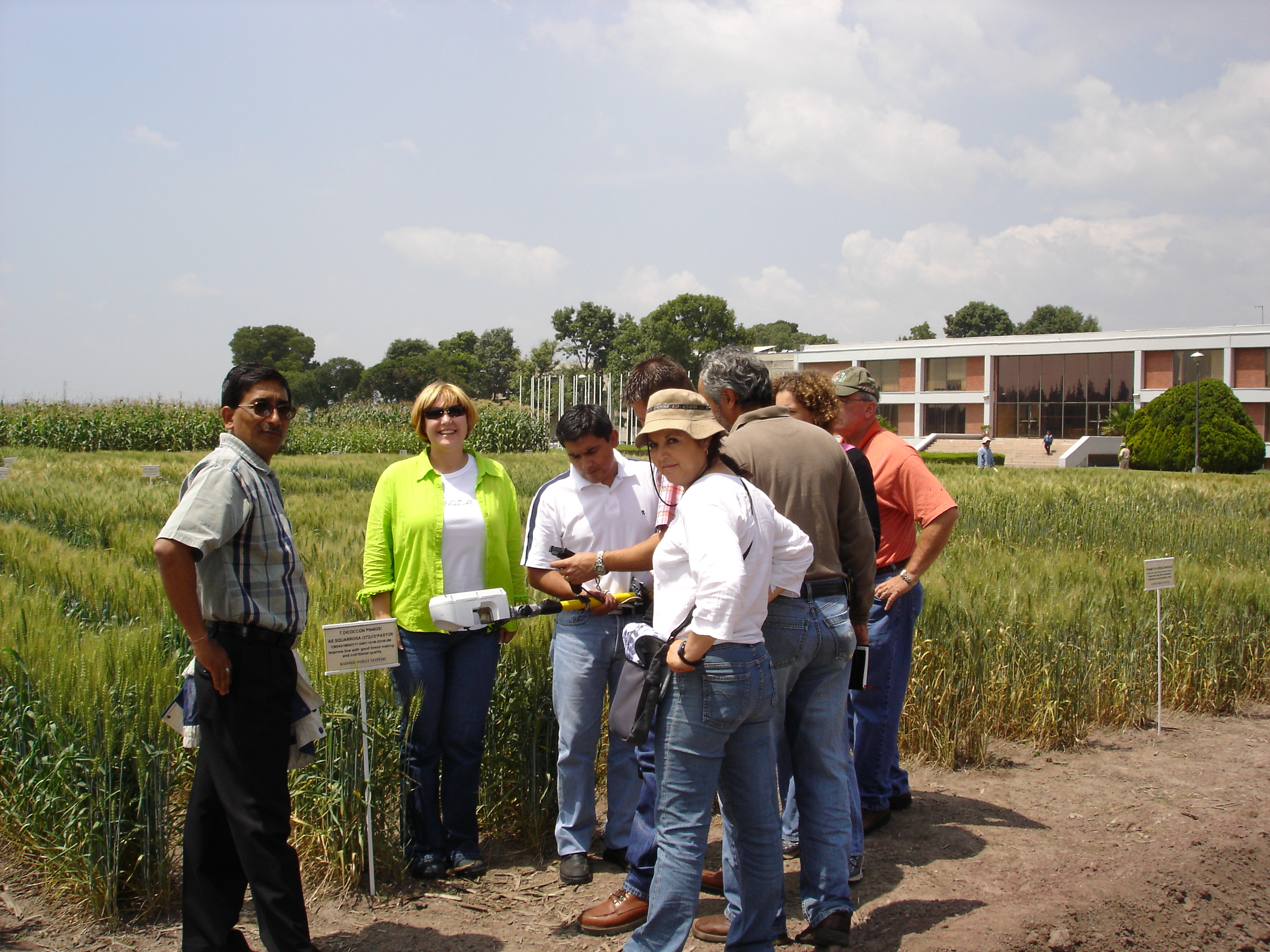 Olga Walsh and Kyle Lawles conduct infield training on the use of the GreenSeeker sensor in Texcoco, Mexico.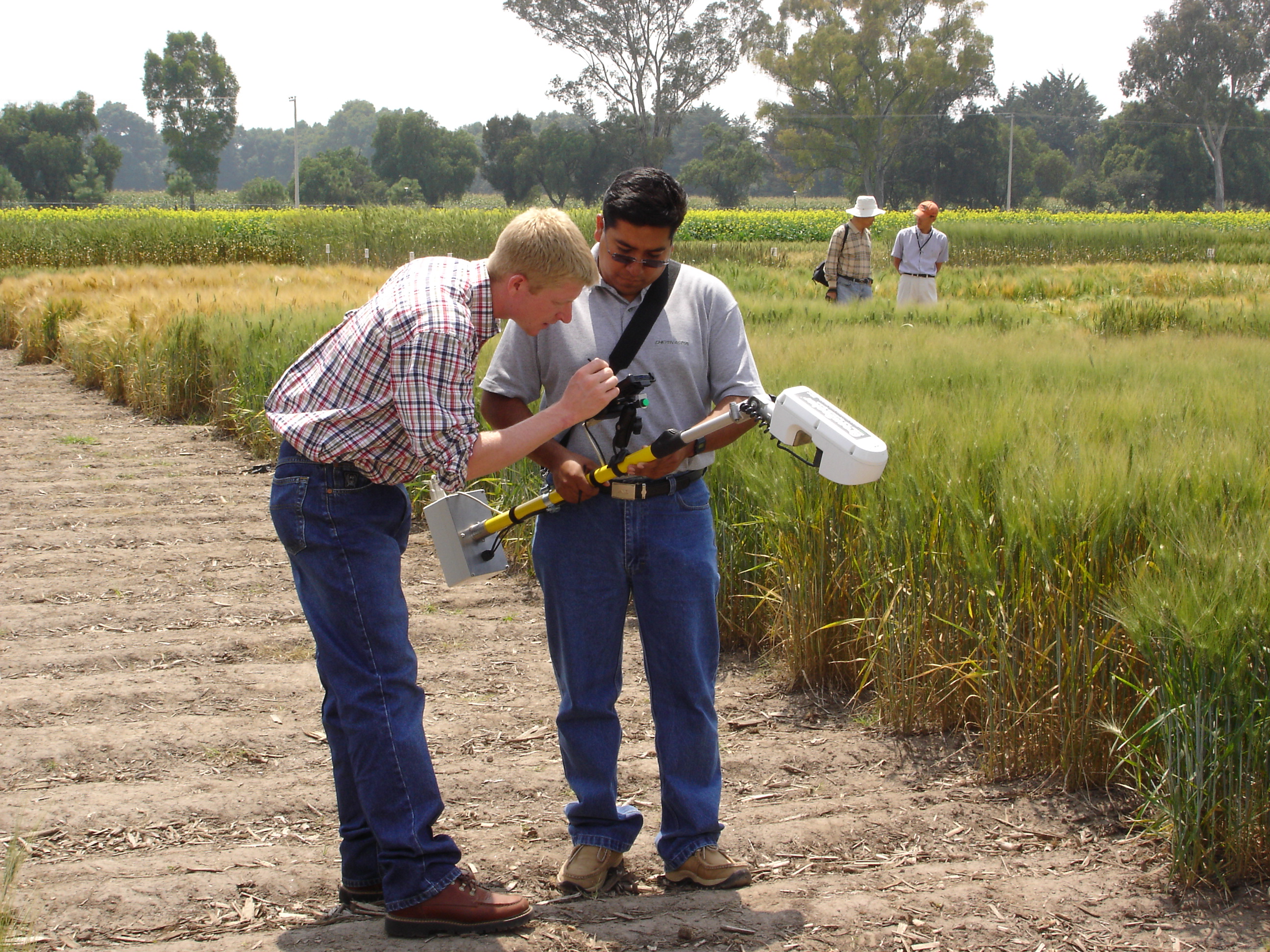 Clint Mack trains CIMMYT scientists on the use of the hand held GreenSeeker sensor in spring wheat, El Batan, Mexico.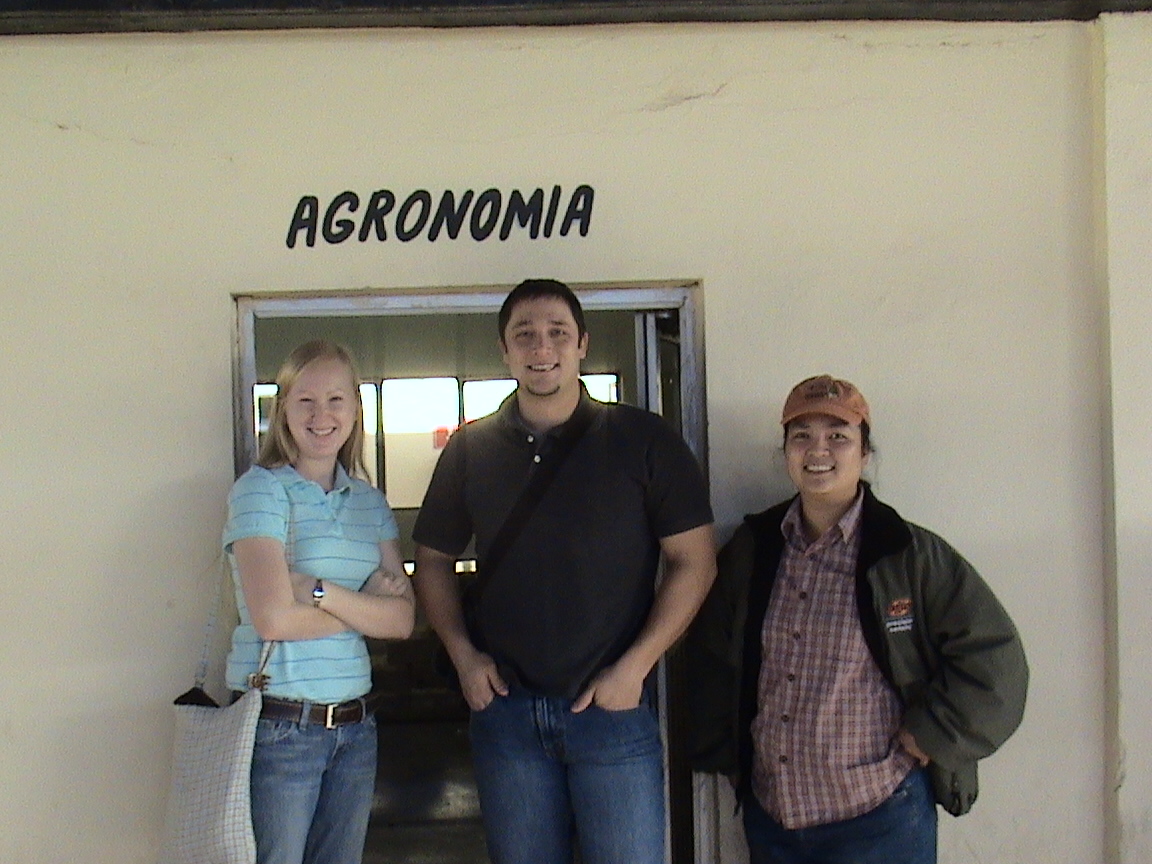 Starr Holtz, Clint Dotson, and Brenda Tubana conduct field training near Ciudad Obregon, Mexico at the CIANO headquarters.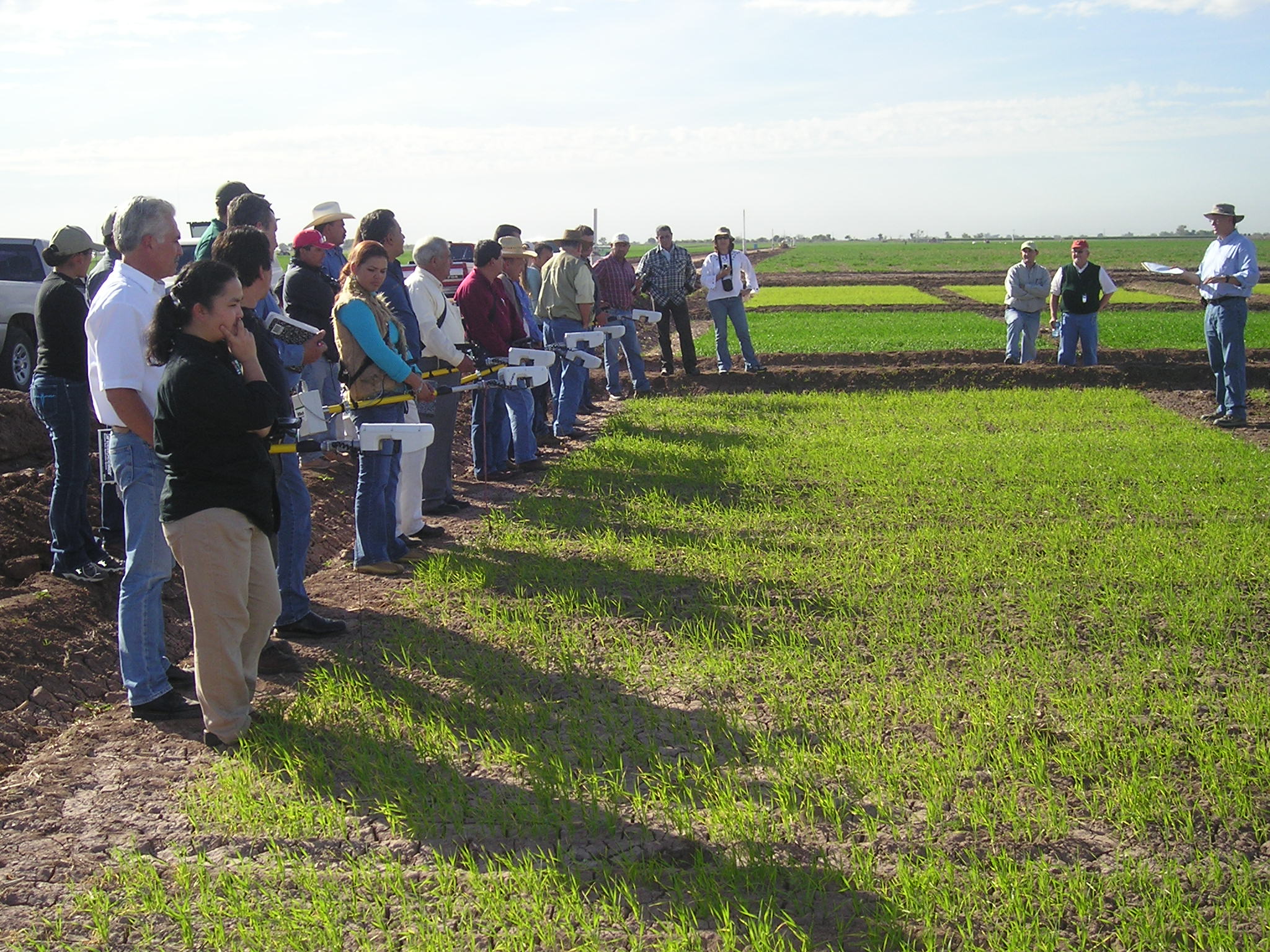 Farmer training in Ciudad Obregon, Mexico, conducted solely by OSU graduate students.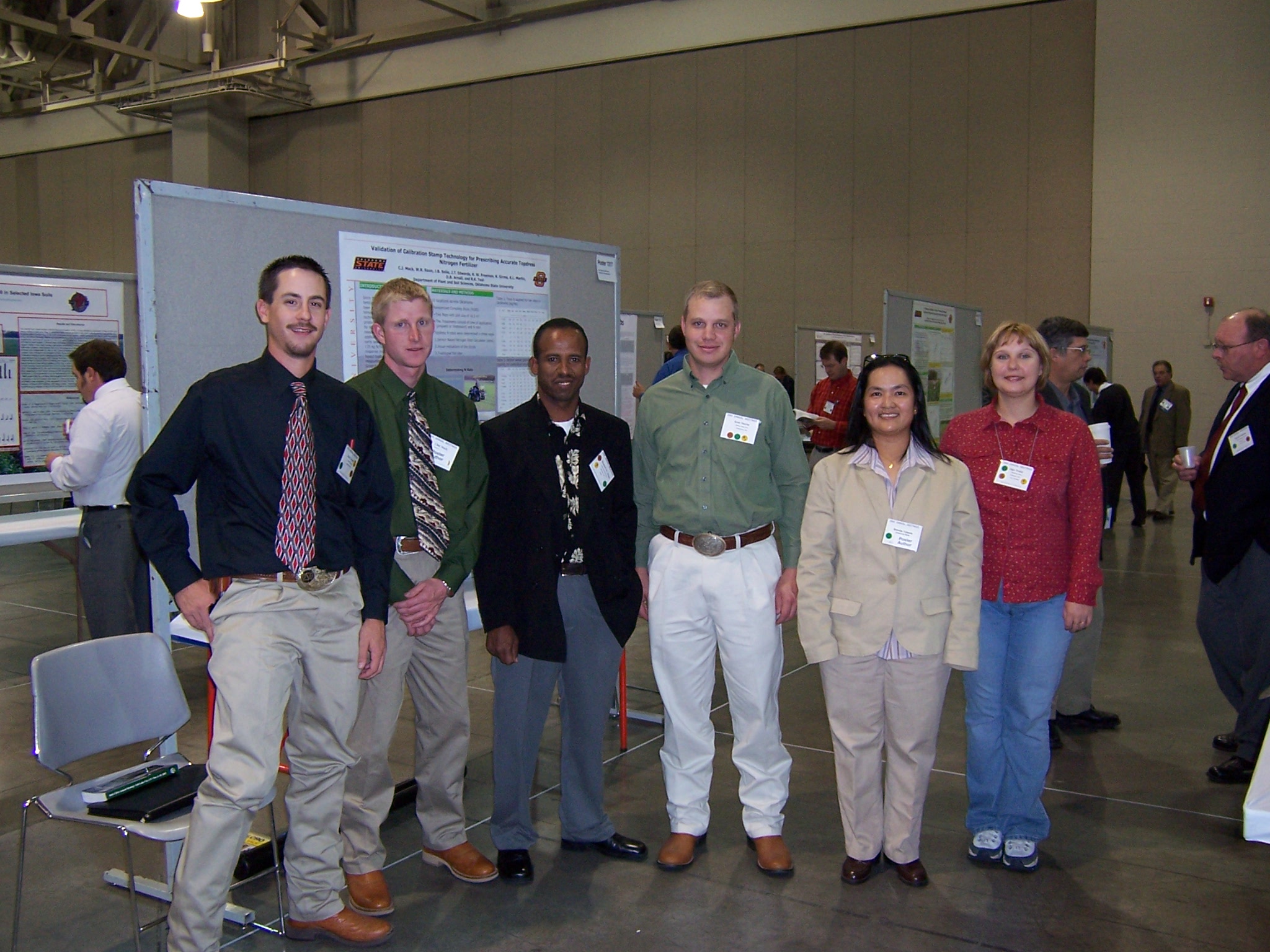 Brian Arnall, Clint Mack, Shambel Moges, Kent Martin, Brenda Tubana, and Olga Walsh at the ASA-CSSA-SSSA meetings in Indianapolis, IN. All of our graduate students (MS and PhD) are required to present their research work at various annual meetings.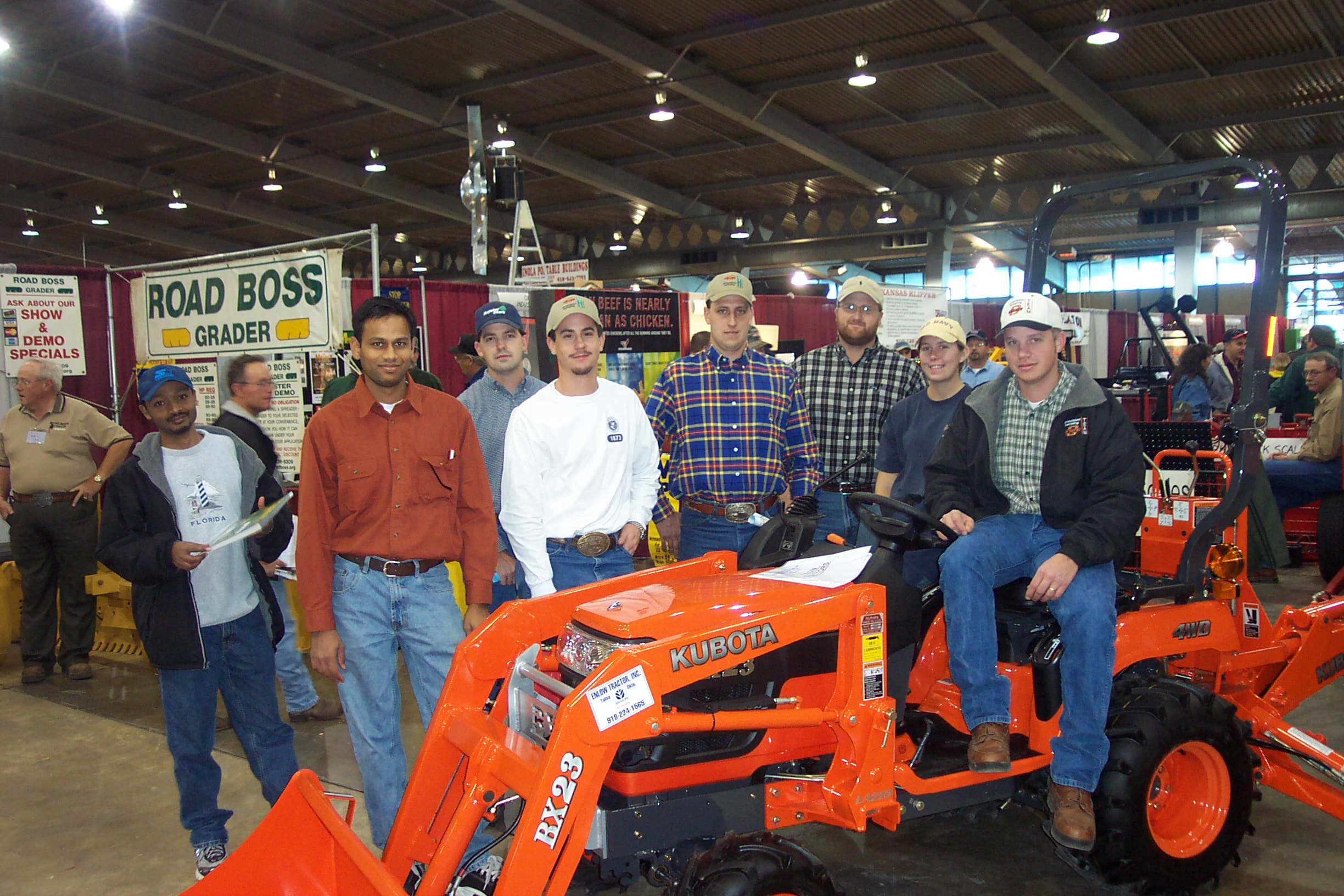 OSU graduate students at the annual farm show in Tulsa, OK (Kefyalew Girma, Jagadeesh Mosali, Roger Teal, Brian Arnall, Jason Lawles, Kyle Freeman, Keri Brixey, and Kent Martin)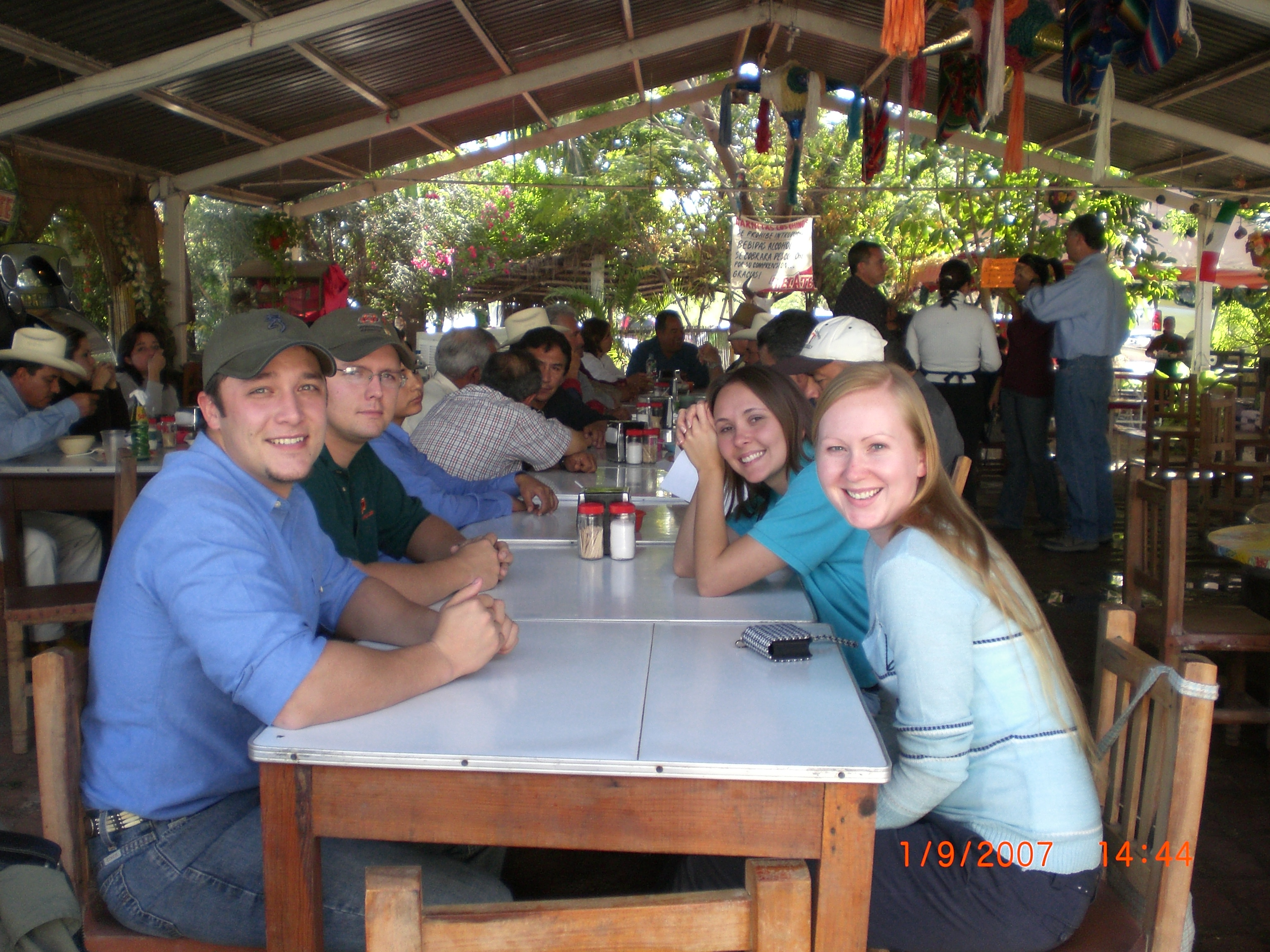 Clint Dotson, Luke Hanks, Pam Turner, and Starr Holtz enjoy lunch at Las Carnitas, Ciudad Obregon, Mexico.